Booking...
How do I book you for my wedding day?
Let's connect and make a date! We'd love to hear about your wedding plans and chat about your wedding photography needs! We can meet up, talk on the phone, or swap emails; whatever works best for you! Email us at [email protected] to set up either an in-person or by phone consultation.
Where do you photograph weddings?
We're a team of husband-wife Monroe, NC wedding photographers. We travel all over the Carolinas photographing lovely brides and grooms.
Before Your Wedding...
How do you prepare for my wedding?
We'll get all the amazing and fun details ironed out via our snazzy wedding day planner, so come your wedding day, we'll be all ready to capture your wedding moments and there will be no room for "what ifs", just pure happiness and beautiful photos!
Book Your Engagement Session with Us...
Our engagement sessions are all about your love, your story and are a great way to see how we work! You'll be so comfortable in front of our lens that when your wedding day rolls around, it'll be like taking pictures with your friends. You'll be totally relaxed, feel great, and get natural looking photos.
During Your Wedding...
When we leave...we will call or text you to let you know we're on our way.
We will follow...your wedding day planner and bring backup equipment.
When we arrive...Abby will capture all the excitement as you and your bridesmaids get ready to walk down the aisle; Ryan will catch up with the boys for their getting ready photos.
As your day unfolds...we will capture all of the angles, the emotions, the events, the details, and of course, the love of your wedding in an unobtrusive, photojournalistic style, capturing your real, candid moments as they unfold.
Your formal portraits...are crafted to fit you. Let us know what you're looking for in your portraits ( in-the-moment photos, traditional poses, or a creative, modern look).
After Your Wedding...
How many pictures will I end up with?
On average, you can expect to receive approximately 100 edited images per hour of wedding coverage. We look at every, single photo we take, one at a time, so that you'll get the best photos edited that tell your wedding day story. Keep in mind, the number of photos per hour depends on amount of activity throughout your day, size of the wedding party, and number of family groupings.
Can I print the photos and post them online?
Yes, please do! You will receive a full print release from us. For the best prints, choose a reputable lab or order through us via your wedding gallery for high-quality, professional prints. When posting to social media like Facebook, please give us credit for the images and tag us. :)
When will I get to see my pictures?
4 weeks after your wedding, we'll have all your edited images online to share with your family and friends.
When will I get my USB Flash Drive of pictures?
Your USB will be mailed to your address within one to two weeks after you've viewed your photos online.
What happens if I loose my USB Flash Drive?
If you misplace your USB, no worries! Simply let us know and we'll get you a new one for $75.00 per USB Flash Drive. We can replace your USB up to one year after your wedding date.
Do you offer high-end flush mount wedding albums?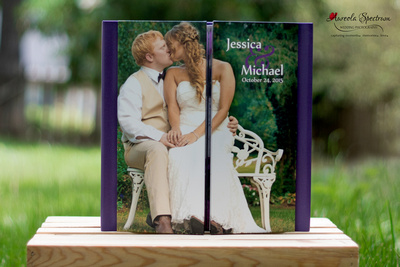 Flush Mount Wedding AlbumHigh quality flush mount wedding album offered by Aureola Spectrum Photography: Monroe, NC wedding photographers
Flush Mount Wedding AlbumBest wedding albums available offered by Aureola Spectrum Photography, Monroe, NC wedding photographers.
Yes, our award winning albums are custom designed to fit your wedding story. Our albums have handcrafted features, completely lay flat pages allowing photos to extend seamlessly across two pages, highest print quality with professional paper creating images in true tone and depth, hard covers and thick, rigid pages designed to endure rigorous use, preserving your wedding memories for a lifetime and future generations.
Pricing...
Thank you for your interest in our work! We're a team of Monroe, NC wedding photographers, so all of our packages include two photographers.
All of our wedding packages include:
Two Professional Wedding Photographers
USB Flash Drive of edited High-Resolution Images
Full Print Release for Rights to Print Images
Online Wedding Gallery for Viewing and Ordering Professional Prints
All Travel Expenses Included
Our wedding packages begin at $1300.