Barbi and Travis, what an amazing couple! Barbi and Travis were friends for many, many years. Only years later did they actually start dating and the rest is history. And finally, the morning of their big day arrived! We meet up with the girls at the Blasted Blow Dry Bar in Greensboro, NC for their hair styling.
And then it was off to Christ United Methodist Church! Barbi put on her finishing touches including a very dear and sentimental diamond necklace; it was an emotional moment as Barbi's mom and Barbi's aunt put on the necklace right before she walked down the aisle.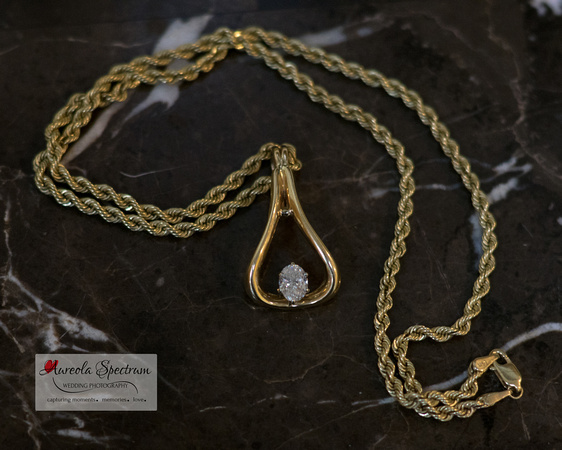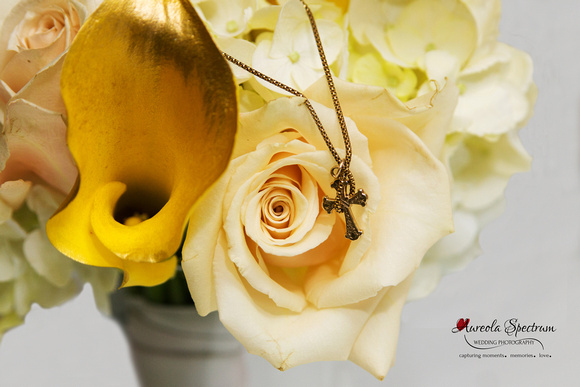 Right before the ceremony, Barbi and her bridesmaids posed for a fun picture. Meanwhile, Travis and his groomsmen were putting on their final touches and taking photos in the church's courtyard.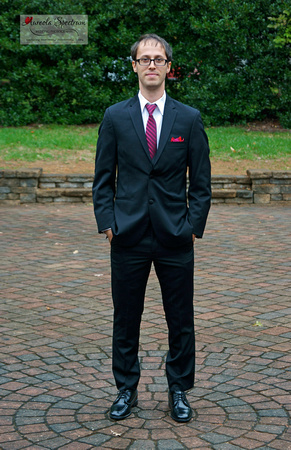 Barbi and Travis met in the church's chapel right before their ceremony. No peeking! They held hands around the wall and shared a few blissfully quiet moments together before the ceremony.
We love this photo of Barbi and her dad walking down the aisle; it is both beautiful and epic.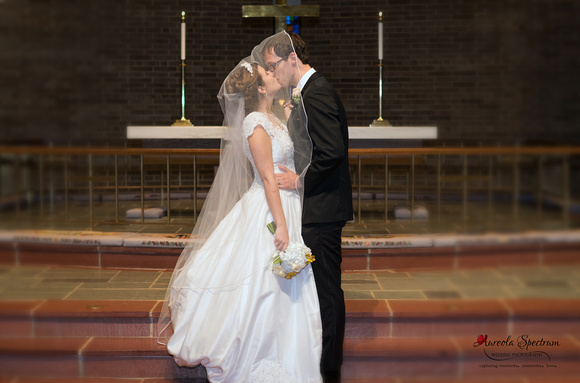 Barbi and Travis arrive at the reception location and we LOVE those blue heels! Time for the reception and more outdoor bride and groom photos at the gorgeous Starmount Forest Country Club!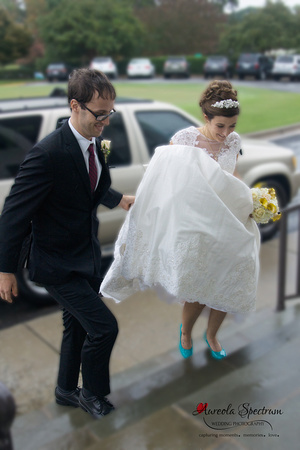 Starmount's reception hall looks amazing with the cool up-lighting. We adore how "Barbi & Travis" is lit up on the wall! We love their designer wedding cake with it's intricate designs and accent red roses making this cake sweet, classy, and just plain cool!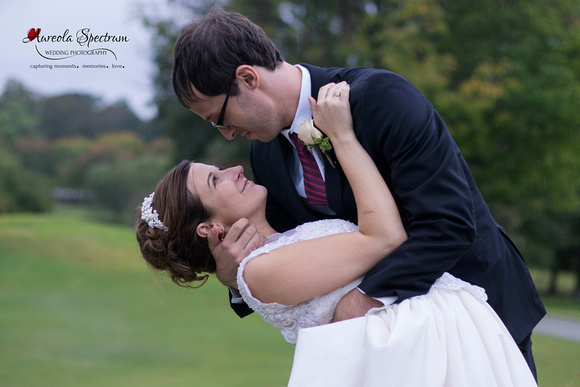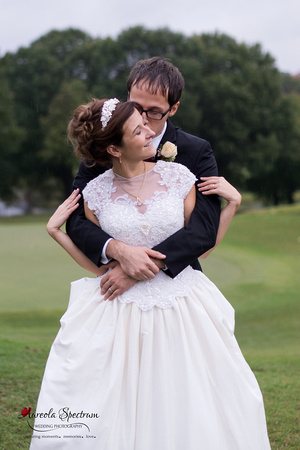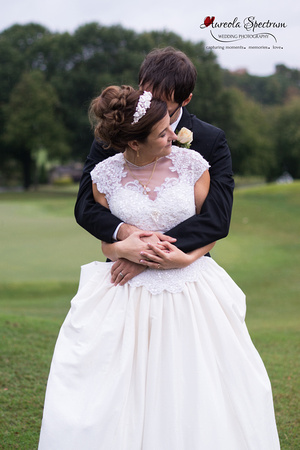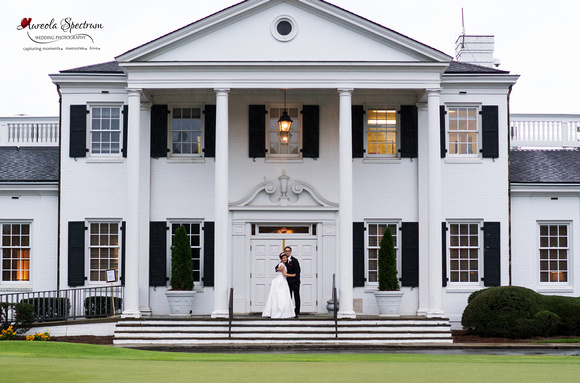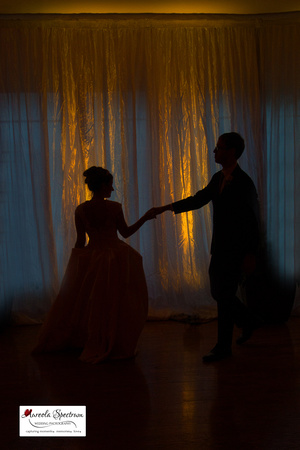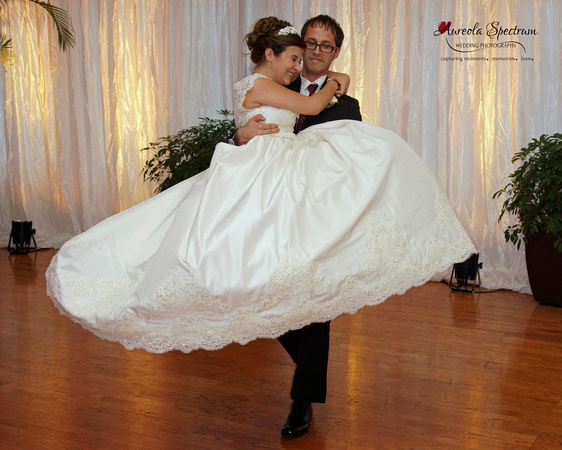 During the reception, Travis played the grand piano for his wife and their guests; truly, a beautiful candid moment that will be forever treasured!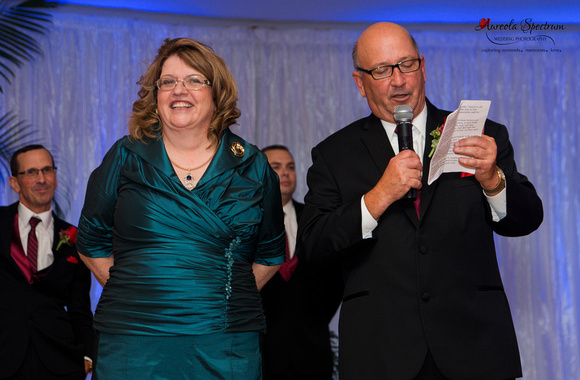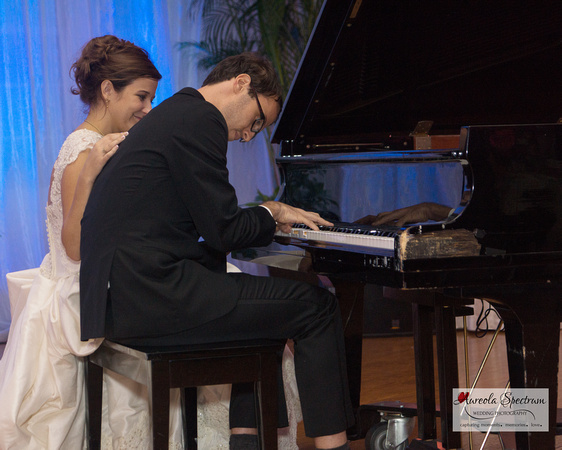 Everyone had a blast dancing the night away. The very last photo is from the last dance and is one of our favorites! We absolutely loved Barbi and Travis' wedding and are honored be their wedding photographers! Congrats Barbi and Travis on your marriage!!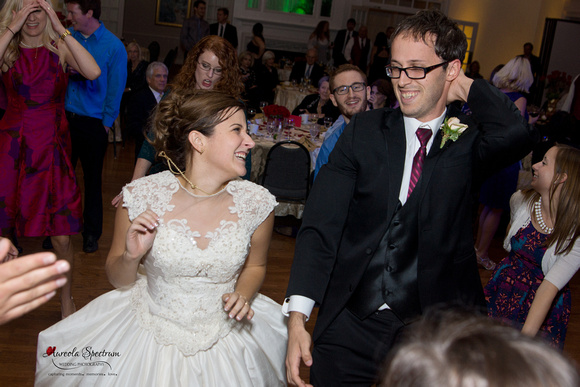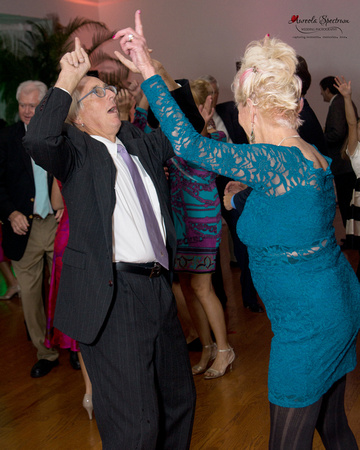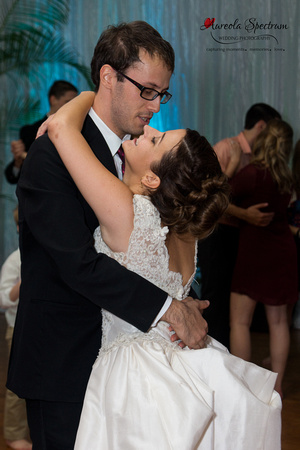 Barbi's Love Note

You can check out Barbi's review on Wedding Wire.
Hi AWESOME brides & grooms!
Thank you so much for checking out our blog!
We're wedding photographers from small town Monroe, NC. As a team of husband-wife wedding photographers, we travel all over the Carolinas photographing lovely brides and grooms as they say their "I dos".
If you're looking for a wedding photographer in Monroe, Charlotte, Concord, Matthews, Fort Mill, or anywhere in NC or SC, we'd love to hear from you!
Email us directly at aureolaspectrum@yahoo.com or click below to start a conversation.
Happy Wedding Planning!
Abby & Ryan